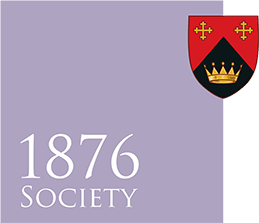 The 1876 Society
1876 is the year that St Stephen's House, Oxford, was founded, and today, the 1876 Society has been established as a society for alumni, friends and supporters of St Stephen's House, with the aim of providing a community of stewardship to help support the work and future of the college.
By becoming a member of the 1876 Society, you are contributing to the stewardship of the college's future, sharing in the responsibility of maintaining the standards of teaching that define St Stephen's House.
How to join
To become a member of The 1876 Society please click the following link and set up a standing for the relevant amount shown in the table below.
Join The 1876 Society
Membership levels & benefits
Please note that the suggested donation amounts below are designed to be a guide. We welcome any amount you feel able to give. For example many members have set up a regular donation of £10 per month.
| Level of membership | Cowley member | Benson member | King member | Group or parish member |
| --- | --- | --- | --- | --- |
| Membership eligibility | Current students & previous year's leavers | Those under 30 | Those over 30 | Open to corporate, parishes or other groups |
| Cost | £18.76 per annum | £10 a month for one year (or £187.60 one-off cost) | £22.50 a month for seven years (or £1,876 one-off cost) | £79 a month for two years (or £1,876 one-off cost) |
| Certificate of membership | ✓ | ✓ | ✓ | ✓ |
| College pin badge | ✓ | ✓ | ✓ | ✓ |
| Invitation to dine in College (with guest) | | | ✓ | ✓ |
Contact
For more information, please contact the College Development Office:
E: development@ssho.ac.uk
T: +44 (0)1865 599665