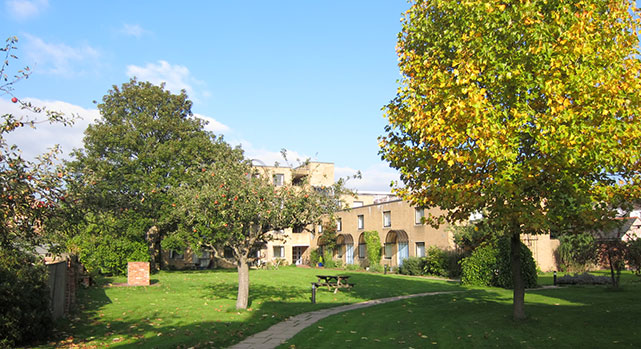 Accommodation
Single Student Rooms
The majority of our students live in the main college building in single study bedrooms, some of which are en-suite. All bedrooms have a washbasin and internet.
Limited all-year round accommodation (October-June) is available in either a standard room or a room in an on-site shared student flat on a B&B basis. All-year round students who have elected to stay in an en-suite room, may be required to move into a standard room during University holidays if the en-suite room is needed for a conference. Vacation residence, when available, is charged at the same rate per room type as term time.
If you have a particular accommodation preference please make this known when you make your application; you will be allocated a term-time only standard study bedroom unless you indicate otherwise.
Family accommodation
Situated on the Eastern side of the main site, and accessed via Oxford's Cowley Road, Moberly Close is the college's family accommodation. Ranging from 3-bedroom houses to 1-bedroom flats, there is accommodation to suit most student requirements, all within a few seconds' walk of the main college building.
Please do enquire early if you require this style of accommodation as it gets filled up quickly.
For students living in flats and houses, there is a choice of half-board catering or signing in for occasional meals. If you choose the latter option, there is an annual facilities charge which includes the option to book the termly celebratory meals, plus the entitlement to discounted meal rates for occasional meals taken. Families are welcome to join students in the dining hall for meals (charged at the same rate).
Non-resident students have full access to the library facilities.